Do you sometimes feel trapped by chronic pain and illness? Discouraged by recurring back, neck, hip, joint pain, migraines, sciatica, IBS, fatigue or just stress?   Add to that the anxiety that thwarts your way, the frustration of not finding the right care, and it feels hopeless sometimes. You need someone experienced, who understands what it is to be in pain and distress, and how you can break free to feel like yourself again.
For 28 years I have been working with clients and students as a pain relief therapist, holistic health coach, and somatic educator, continuously refining an original, unique synthesis of manual, movement and mind-body therapies. Think of it as where the worlds of massage therapy, physical therapy, yoga, somatic and mind/body therapy meet and purposefully interact. If you want an actual holistic approach that reveals the connections between your various chronic issues and how we can integrate methodologies from a range of disciplines to address them, this could be right for you.
What does your digestive disorder have to do with your low back, pelvic pain and asthma? How will learning relaxation techniques and changing your diet and daily routine help your migraines? What kind of mind-bodywork will help heal from past trauma and relieve your neck pain? With this dynamic, whole body-mind approach we not only address your musculoskeletal and myofascial systems, we actively balance your nervous system, while engaging respiratory function.
Coaching in biomechanics, life-style modifications, mind-body and somatic practices, and exercises to improve stability and mobility, can all be part of a healing program that can help you demystify and unwind from habitual, detrimental patterns and dysfunction.
We can adapt most methods on or off the table in movement or stillness, depending on how your body responds best. This is creative dynamic, in the moment bodywork based on age old disciplines, informed by scientific investigation.
Go beyond recovering from pain, to cultivate and enjoy a new relationship with your body.
Our work together would be a weaving of techniques particularly suited to your needs, guided by comprehensive detailed discussion, thorough structural assessment and your body's individual response. Throughout we follow your body's cues, trust and respect your unique patterns and process and modify accordingly. It's your story and your show.
The method stems from and seamlessly blends many healing disciplines and manual therapies, including; myofascial and trigger point release, orthopedic and medical massage, neuromuscular therapy/re-education and muscle energy techniques, Structural Yoga Therapy, Amma, Authentic Movement Therapy, somatic and movement disciplines plus nutrition, Ayurvedic healing, mind-body work, relaxation techniques and breath-work. I like to think of it as an approach that marries the clinical with the contemplative.
My personal experience with chronic illness and severe pain has deepened my understanding and helps me appreciate the multi-layered and often poorly addressed complications so many of us struggle with.
Call me for a free phone consultation to see if this innovative approach is a match for you, at 413 575 1354, or email: lenore.bryck@verizon.net
Depending on your needs, I offer remote consultations via Skype, if you live far from western Massachusetts, USA,  or hopefully I can recommend other resources that might be helpful.
Please explore the site as I update information, including creating a supportive learning community for people with chronic pain or illness, that includes therapeutic movement classes, self-care, strategies for self-empowerment, various local workshops, and movement and mind/body therapy.
It can get better with smart comprehensive bodywork that works for your body.
Lenore Bryck is approved by the National Certification Board for Therapeutic Massage and Bodywork (NCBTMB) as a continuing education Approved Provider.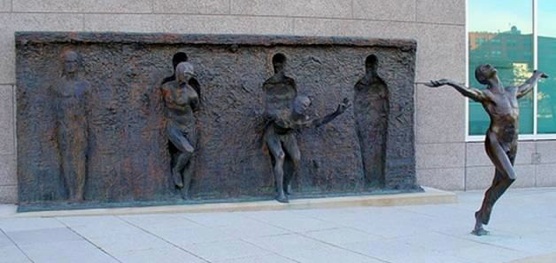 Freedom by Sculptor Zenos Frudakis